Versatility is not the most common way to describe fence, but Red Brand customers continue to find new and innovative uses for our wire. Ranging from firewood bundled with Smooth Wire, to show arenas fenced-in by low profile Yard, Garden, & Kennel, the possibilities for Red Brand extend beyond traditional animal containment. One of the more surprising uses of poultry-style netting took Red Brand off the land and into the water.
A Fence for Every Animal – Even Crabs and Fish
In response to the need for crab pots, live wells and fish traps, we created a line of fence called Salt Water Netting. In keeping with our original Poultry Netting construction, Salt Water Netting has the same structural benefits. Close-fitting hexagon mesh prevents even small aquatic creatures from slipping through the enclosure. Horizontal wires reinforce an already solid construction. Combined with an easy-to-handle reverse twist weave, Salt Water Netting is a durable and flexible material for crab or fish containment.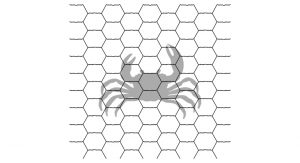 Galvanized for Extended Life
Some wire fencing will be submerged in salt water for hours, or even days. The rigors of being exposed to the caustic coastal waters will cause oxidization on any exposed steel quite rapidly. Therefore, we apply a heavy, durable coating of zinc to Salt Water Netting to prevent premature rusting and failure. In order to remain durable after extended exposure, we actually galvanize Salt Water Netting twice to help prevent corrosion. Covered once before weaving, and again after, this double coat ensures worry-free containment and longevity for crab pots and fish traps. (To learn more about galvanization, check out our post: Galvanization: Why it's Important.)
Learn More About Salt Water Netting
Salt Water Netting is an easy-to-shape material that stands up to the rigors of salt water. If this application suits your needs, then be sure to speak with your local Red Brand dealer for more information. You can also learn more at our website.
Don't miss a thing. Simply fill out the Subscribe form here. We'll notify you every time we add new material. See you soon!