It's not every day that a 125-year old company gets a visit from the grandson of its founder. But, that's just what happened recently when Ben Sommer, grandson of Peter Sommer, stopped by Keystone Steel & Wire for a tour.
The History of Peter Sommer
Building and maintaining split rail fences in the 1880's was backbreaking labor. So, Peter Sommer, a farmer who lived in central Illinois, was inspired to come up with a "new kind of fence". In 1889, Peter, along with his eldest sons, John and Peter W., spent countless hours in a small wooden shed on their farm. Their goal was to devise a crude machine to weave wire into fence. The pattern they came up with resembled a keystone. (The company's namesake, Keystone Steel & Wire, derives from Sommer's invention.)

The result of their hard work and determination was a wire fence that was easier to install and longer-lasting than split wooden rails. Plus, it was effective in keeping farm animals from wandering off. The first string of fence was a sensation among local farmers. They quickly saw that it was inexpensive and, more importantly, a great labor saver. The company continued to grow as their new product was desperately needed by farmers near and far. A steel plant was added to keep up with demand, and by 1917 the company employed over 750 workers. Around 1925, Red Brand fence was marketed with red-topped wire and instantly became recognizable on farms all across America.
The Sommer Legacy
Peter Sommer died in 1920 and was succeeded by Peter W. until his death four years later. Younger son, B.L. Sommer, then took the company reins for four years until his passing in 1929. Leadership remained in the Sommer family for several more years.
So, how does Ben Sommer fit into this scenario? In 1915, Ben's father, B. L. Sommer, was instrumental in leading the way in developing the business to such a degree that a steel mill was built in order to support the continued growth of the company. Though his tenure was brief, B.L.'s contribution to the success of Keystone is felt even now. 100 years later, Keystone Steel & Wire Company remains one of the largest steel and wire mills in the world.
Sadly, Ben's father died when he was just a young boy, so he didn't get the opportunity to immerse himself into the Keystone family. While he recalls visiting the plant as a young child, his memories are vague. The opportunity to tour the company their forefathers built was a very special day for both Ben and his son Stephen. It was also an extraordinary day for current employees of Keystone Steel & Wire.
Ben's Visit to KSW & Red Brand
Ben and Stephen were shown all aspects of the production facilities from beginning to end. They saw how steel is transformed into wire and they viewed the fence making process in the wire mill. While fence weaving machines have evolved over the years, they ultimately saw how Peter's invention from 1889 is still at the core of Keystone's business.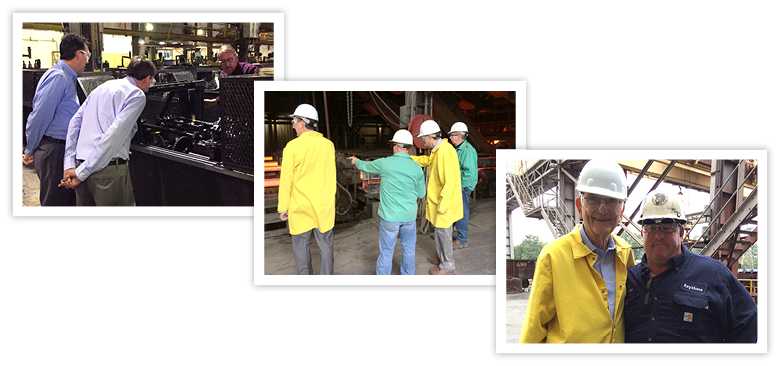 Keystone representatives shared many insights about the Sommer family. Timeless values like innovation, determination and commitment to quality continue to influence the company. We are proud to say the foundation Peter and his sons built is still in place today. Many generations of families following their lead have contributed to the lasting success of our company. Even now, the impact of the Sommer legacy is felt, as the 'Spirit of Family' remains.
Follow significant events in the history of Red Brand and Keystone Steel & Wire on our timeline. Additional information about Peter Sommer can be found here.
Don't miss a thing. Simply fill out the Subscribe form here. We'll notify you every time we add new material. See you soon!