Wood fences can rot. Stone fences can crack. And wire fences? They can rust. At Red Brand, we regard fencing as an investment. You work hard to assure your animals' safety. To protect what's important to you, we manufacture our fences to stand strong against all types of weather conditions. However, even a light rainfall can harm steel at the atomic level. Due to oxygen molecules that produce iron oxide, rust will appear on exposed steel. That's why all Red Brand fence features galvanization for lasting performance.

What is Galvanization?
Galvanization is the process of coating metals like steel and iron with zinc. The mineral acts as a barrier from factors like humidity, salt air, pollution, chemicals, dust and other abrasive air qualities.
All Red Brand fence is galvanized using a process known as the 'hot dip' method. The steel wire is immersed in a bath of molten zinc where a reaction occurs creating a uniform coating around the wire. As a result, a layer of bright, shiny zinc remains on the surface of the steel. Since the wire will inevitably scratch in the field, this zinc coating will be the first line of defense. The galvanized surface sacrifices itself to prevent moisture and corrosive elements from reaching the steel.
Which Class of Galvanization Should I Use?
Fence life is determined by several factors. Weather conditions, air quality, proper installation techniques, and of course, the amount of zinc coating all contribute to longevity. No two farms are alike, and no two fence needs are alike. Therefore, we offer three different classes of galvanization depending on what will best suit your needs. Each class is associated with a minimum coating weight per square foot of wire.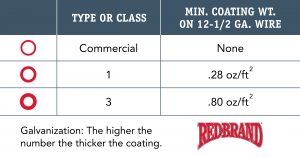 Red Brand products conform to ASTM standards for coating weights to assure quality. The Commercial Class of galvanization contains the smallest amount of zinc. It provides the most affordable fence coating possible. However, there is no minimum ASTM requirement for Commercial (Regular) galvanization.
Red Brand 'Tradition' fence products utilize a Class 1 coating of zinc. The minimum coating thickness of Class 1 is .28 ounces per square foot. Class 1 is suitable for most farm applications.
For properties that are especially prone to rust, 'Extended Life' fence is coated with our heaviest layer of zinc. As a result, Class 3 service life is 2.5 times longer than Class 1 coating.
The majority of Red Brand's woven fence styles are available in either Class 1 or Class 3 coatings of zinc. Stockade panels, poultry netting, and other welded wire fences are primarily available in Commercial grade. Here's a video that further explains our product line-up.
The Effects of Rust
Remember that all wire fences will eventually succumb to rust. Fortunately, galvanization slows the process down considerably. Rust doesn't necessarily mean fence failure. Fences with some rust are more than adequate in most circumstances. How long a fence lasts depends on the conditions of its use and the amount of galvanization. When properly installed, Red Brand fence should last 20-30 years. In some instances, Red Brand fence has lasted up to 50-60 years. A good investment, indeed!
Be sure to talk with your local Red Brand dealer to determine which class of galvanization is best for your application.
Don't miss a thing. Simply fill out the Subscribe form here. We'll notify you every time we add new material. See you soon!