For a multi-purpose, cost-effective fencing option, consider Red Brand smooth wire. These single wire strands have no barbs, and are not woven to other wires. Because its available in lengths ranging from 170 feet to nearly ten thousand feet, our multi-use smooth wire can handle a variety of tasks. Whether you want to fence in a new pasture, supplement your current fence, or make household chores easier, having a roll of single strand wire is never a bad idea.
High Tensile Smooth Wire
High Tensile Smooth Wire is available in 4,000-foot coils. However, don't let the big length make you think big weight. Rolls of this 12-1/2 gauge wire weigh in at just over 100 pounds. In fact, that's less than half an ounce for each foot of wire, resulting in an easier installation process. To maximize this wire's longevity, each roll is coated in Class 3 galvanization. This is the thickest coating of zinc that Red Brand provides. As a result, rain, snow, and any other water damage will be hard pressed to oxidize this steel. The wire will remain protected from rust for years. And, since high tensile smooth wire can be electrified, it's suitable for livestock and pasture enclosures.
Electric Fence Wire
For a fence that needs electricity, regardless of your location, consider Electric Fence Wire. This product is ideal for adding extra security to your existing fence, or constructing temporary fence lines. That's because its light-weight wire is made with ease of installation in mind. Wrapped around a stress-free dispensing spool, this wire is available in quarter- and half-mile long lengths. Made from either our 14-gauge or 17-gauge wire, electric fence wire is designed to carry an electric current through strong wires that resist breakage. A coating of zinc also resists corrosion, meaning less maintenance in the future.
Galvanized and Black Annealed Smooth Wire
Several options for general-use smooth wire are available from Red Brand. Depending on your specific needs, you'll find our rolls of wire in a variety of thicknesses and coil lengths. In addition, you can also choose between galvanized or black annealed finishes. And, with six different wire gauges and fourteen spool lengths ranging from 170 feet to almost two miles, we're sure to have the perfect match for you.
Ideal for bundling, tying, and organizing, this wire is easily molded to whatever shape you need. Furthermore, a pile of tools can be easily hung. Or, a bundle of firewood can be stored without falling apart, and a mess of brooms can be tied together into a corner. The possibilities extend far beyond that of fence applications.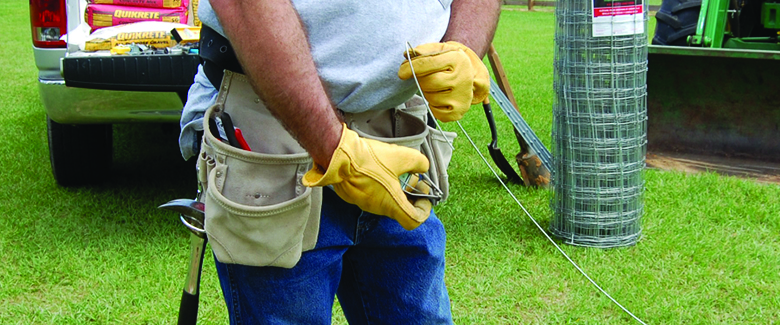 Effective, Dependable, Low-Cost Fencing Solutions
Whatever type you choose to use around your property, a roll of Red Brand smooth wire for fence reinforcements and household chores can go a long way. Available in coils as light as ten pounds, this multi-use wire can conveniently store anywhere in the house or barn. The simplicity of handling our light-weight smooth wire takes the burden out of organizing and protecting your valuable property. Talk to your Red Brand dealer to see which option will best suit your needs.
Don't miss a thing. Simply fill out the Subscribe form here. We'll notify you every time we add new material. See you soon!