With approximately 10,000 members in over 600 unique clubs and riding centers, Pony Club is a diverse, far-reaching member of America's horse community. Since its beginning in 1954, the United States Pony Clubs, Inc. (USPC) has turned out some of the nation's greatest horsemen and women.

What is Pony Club?
Pony Club is the largest equestrian educational organization in the world. The cornerstones are education, safety, sportsmanship, stewardship and, most important of all, fun! Members learn how to ride, compete, and care for their horses through mounted sports. The skills, habits and values instilled through horsemanship provide significant benefits, as they apply to every part of a member's life.
Pony Club's fundamental goals are to develop character, leadership, confidence and a sense of community in youth. This is accomplished through education topics focusing on a range of important issues. From equine nutrition and anatomy, to first aide and proper horse care, the USPC is an outstanding foundation for America's young equestrians. Learn more about Pony Club here.
Several years ago, Red Brand recognized the significant impact this important organization has on our nation's young horse enthusiasts. We found that the values of Pony Club closely align with those of Red Brand. Both believe that safety and security for horses are the utmost concerns for any horse owner. Therefore, Red Brand became a proud supporter of the USPC's education initiative.
While helping to spread the word and promote the values of Pony Club, Red Brand also strives to provide helpful tools for horse safety. That's why we offer our unique and exclusive instructional kit called Fence 101 to Pony Clubs around the country.
Improving Horse Safety with Fence 101
Pony Club chapters are eligible to receive our Fence 101 kit for free. Inside, chapter leaders will have everything they need to teach club members how to safely fence their horses. (As an added bonus, the Fence 101 kit contains lessons on how to fence other animals too, like cattle, chickens, goats, and more.)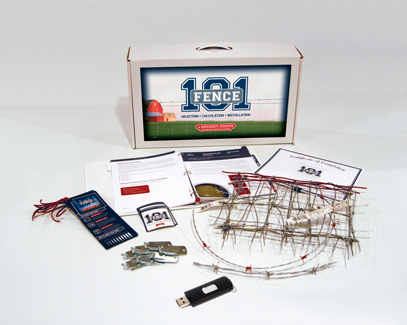 An instructor's background or level of expertise in fence installation is not a worry. The comprehensive instructor's manual can help anyone prepare to teach Fence 101. The kit includes ready-to-present PowerPoint slides, videos, handouts, quizzes, and real fence samples. With a total of five, 50-minute lessons, the Fence 101 kit is a user-friendly supplement to Pony Club's already exceptional safety curriculum.
What Does Fence 101 Do?
Most domesticated horses spend the majority of their time in a field. While predators like coyotes are an obvious concern, horse enthusiasts will know that possums and groundhogs can be even more dangerous. (Check out our previous post, "Keep Unwanted Animals Out for Safety" to learn more.) Fence 101 teaches students how to keep these pests out of pastures through proper fence installation techniques. In addition, students will learn how to choose the best fence for their farm, install fence posts, stretch fence, and other skills that will increase their horses' safety. With the Fence 101 kit, Red Brand is providing a free educational tool to America's future horsemen and women.
If you are a Pony Club chapter leader, we'd love to share our fencing knowledge and expertise with you. Click here for more information about Fence 101, or contact us for tips on horse safety and security at 800.441.0308 | general@keystonesteel.com.
Don't miss a thing. Simply fill out the Subscribe form here. We'll notify you every time we add new material. See you soon!