Necessity is the Mother of Invention
Red Brand's founder, Peter Sommer, built and repaired plenty of wooden fencing in his time. It was hard, back-breaking work. As a result, he sought an easier, better way to make fencing. He needed something that would last longer while protecting his valuable livestock. So, in 1889, Sommer invented the first fence weaving machine.

Charles Bernard's story is similar. He, too, was motivated to solve a problem. In 1844, the Englishman set out to make a fence to protect the chickens on his father's farm. Charles was inspired by the cloth weaving machines that were plentiful in his small town. As a result, by using wire instead of cloth, he created a new new product that came to be known as chicken wire, or poultry netting.
The product quickly spread throughout the world. Its first intended use was to protect a flock of chickens. But over the years, poultry netting has become a very versatile material for a variety of applications.
Ideal for Poultry
With hundreds of different breeds, chickens are unique animals. Found across the American landscape, these birds are a staple in most agricultural communities. Their small size and strong attraction for predators makes fencing chickens a unique challenge. Red Brand Poultry Netting is built with both animal safety and easy installation in mind.
Our poultry netting is available in either one inch or two inch hexagonal spacing. If you're fencing baby chicks or smaller chickens, one inch spacing is likely your best option. Roosters and hens, however, will be safely secured behind two inch spacing.
Every roll of Red Brand poultry netting is reinforced with a supplemental horizontal wire. This feature is designed to help keep the fence straight and upright. The additional wires increase strength to help keep your chickens in and predators out.

But Not Just for Chickens
Ranging from one-foot to six-foot tall, our netting can be used for a variety of projects. Shorter rolls provide an excellent pest-resistant garden barrier. Taller rolls form garden panels to keep pets out of plants and flowers. The mesh can also be used to support vegetables or as a trellis for vining plants.
Since it's light-weight and flexible, poultry netting is an effective material for making coop structures and roofs for chicken runs. It's also suitable for raising other types of fowl and protecting small animals like rabbits.
Barnard might be surprised to learn that his simple solution for chickens has many other uses. The material is commonly used for non-agricultural applications like framing for parade floats and stucco walls. And in many areas of the country, our product is sought after for use in the manufacturing of crab pots.
Easy Installation, Low Maintenance
When our poultry netting is woven, each twist in the wire is paired with a reverse twist. As a result, the finished product will unroll flat, making the installation process easier. The mesh is very pliable, conforming to all types of terrain. Each roll is galvanized with a coat of rust resisting zinc. This will increase the lifespan of your fence and decrease the need for future maintenance.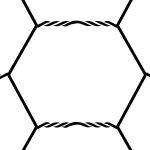 Red Brand understands that each project is unique, and there can be many solutions for your desired outcome. As you start to plan, be sure to ask your local Red Brand dealer for recommendations. They have the materials and tools you need to make your project a success.
Don't miss a thing. Simply fill out the Subscribe form here. We'll notify you every time we add new material. See you soon!