With hundreds of different options, selecting the right fence for your farm can be a challenge. An easy way to start a fence project is to understand fence basics by talking to a local Red Brand dealer. Speaking face to face with an experienced representative will ensure that your animals are contained with the best fence possible. They can even provide helpful tips if you are installing your own fence, or point you towards the closest Red Brand Certified Fence Installer. (Check out our previous blog, "A Red Brand Certified Fence Installer Assures Quality Installations" to learn more about our CFI program.)
Fence Basics to Get You Started
If you've never installed woven wire fence before, having some basic knowledge will help point you in the right direction. The information below provides some general terms and tips about Red Brand fence. While this post is a broad conversation of the basics, the rest of our blog site contains specific information on topics ranging from post spacing to rust prevention. Give them a read to have an even greater knowledge of fence products and installation techniques. Another helpful tool is the Quick Reference Guide found at our website. It's full of information that you can download or print out for your personal use.
The Right Knot for the Job
Many heavy-gauge wire fence styles are made by "tying" sections of wire together with knots. Red Brand Fence uses three types of knots, each with a specific advantage.

• The construction of the Square Deal Knot provides extra strength and rigidity with flexibility, and prevents the fence from buckling or sagging.
• The Monarch Knot acts like a hinge that flexes under pressure. It will spring back into shape, rather than break.
• Best suited for areas with severe snowstorms, extreme wildlife or livestock pressure, our high tensile Cross Lock fence utilizes the Cross Lock Knot. The knot firmly affixes fence wires together, providing superior resistance to movement from animal penetration.
What is the Difference Between Low Carbon and High Tensile Wire?
• Low carbon fence is made from low carbon steel. With 85% of agricultural fencing made from low carbon steel, this strong, but malleable option is one of the most popular materials.
• High tensile fencing features steel made with a higher carbon content. This results in wire that is thinner and lighter than its low-carbon counterparts. Increasing the amount of carbon in the steel makes the wire stronger, but also less flexible. Red Brand offers different styles of high tensile fencing, including 12 1/2 ga, 14 ga, field fence and 15 1/2 ga barbed wire. For reference, the 12 1/2 gauge high tensile is equivalent to a low carbon 9 ga., making it lighter weight, equally strong, but less malleable. All high-tensile fence is Class 3 galvanized.
How to Read a Fence Style Number
A style number is a quick reference that provides specific details about a roll of fence. We'll use on of our most common fence styles to illustrate an example: #1047-6-9.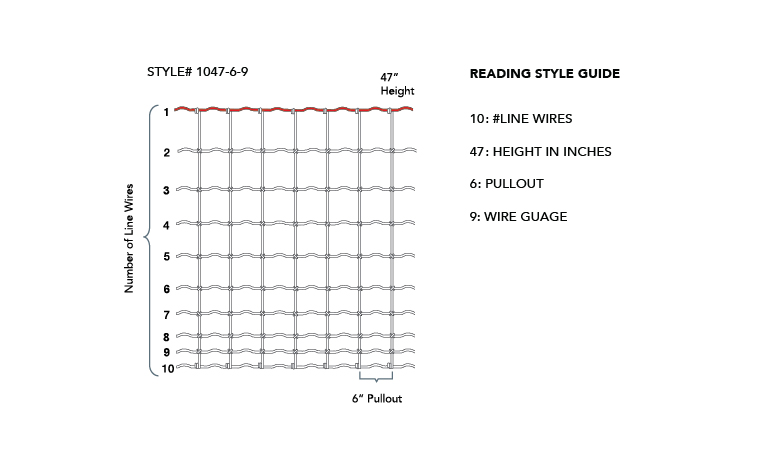 • The first two numbers (10) represent line wires. There are 10 lines, otherwise known as horizontal wires, in this fence. The third and fourth numbers (47) indicate the height of the fence in inches. Referring to our example, the total height of the fence is 47 inches.
• The second set of numbers (6) shows the pullout, or the space in between each vertical wire. The style number in our example has a six-inch pullout.
• Finally, the third set of numbers (9) is the gauge, or thickness, of the wire. The wires in our example are nine gauge.
What Does it Mean to be Galvanized?
All Red Brand fence is galvanized, which means the steel has been coated in a molten zinc alloy that is resistant to rust. The state-of-the-art process assures that all coatings are uniform and meet ASTM standards. To assure long-lasting protection, Red Brand fence uses three classes of coatings for different climates.
• Commercial Class is best suited for fence in dry climates. Light rainfall and low humidity minimize oxidization, reducing the need for rust protection.
• ASTM recommended coatings of zinc offer the best protection for most fencing applications and are suited for most farms. Class 1 galvanization will greatly reduce rust and future maintenance for the standard farm.
• For fences that are close to a coastline or are subject to heavy rainfall, Class 3 galvanization is our strongest protection against rust. With our heaviest coating available, a Class 3 product offers the longest life of the three types of galvanization.
Learn More
We hope you've found this overview helpful. This post is just the first step in learning which fence is best suited for your farm. Check out our other blog posts, talk to your local Red Brand dealer, or refer to our website to learn even more.
Don't miss a thing. Simply fill out the Subscribe form here. We'll notify you every time we add new material. See you soon!