Do you need livestock pens or corrals that don't flex under pressure? Consider Red Brand Stockade Panels. Designed for busy farmers and ranchers, our welded panels are quick to install and require minimal maintenance. With a variety of styles and weights, our Stockade Panels are custom made to match your specific animal-confinement needs.
Our Stockade Panels Are Built to Last
When you install Red Brand Stockade Panels, you're investing in an American-made heritage that reaches back over 125 years. Thanks to a combination of strength and durability, your livestock pens or corrals will surely stand the test of time. Made with ¼", 4 gauge, or 6 gauge materials, our commercial line of panels utilizes the heaviest wire Red Brand produces. (To learn more about fence gauge, check out our blog, "Fence Gauge Explained".) As a result, Red Brand Stockade Panels create a worry-free barrier that protects your animals from predators or escape.
Designed For Hogs, Cattle and More
Red Brand offers unique styles of Stockade Panels for most large animals based on their individual needs. Hogs, Cattle, Horses, and Sheep & Goats can all be safely enclosed with Stockade Panels. For example, Hog Panels are made to keep swine contained without excess material. These 34″ high panels start with six inch horizontal wire spacing at the top. Gradually, the mesh decreases to two inches at the bottom, where hogs are most vulnerable. This design maximizes protection where it's needed, while keeping material costs at a minimum.
Similarly, 52″ high Cattle Panels have six inch spacing at the top and four inch spacing at the bottom. This design ensures your animals are protected where they require maximum security. Most predators will have difficulty fitting through the four-inch mesh at ground level.
On the other hand, Horse Panels and Sheep & Goat Panels are made with uniform horizontal spacing. Our Horse Panel is designed with 2″ wide spacing. The tight mesh is intended to minimize climbing, as hooves will struggle to connect with the tight mesh. In addition, Horse Panels reach five feet high. This creates an elevated barrier that will safely contain tall animals.
Sheep & Goat Panels feature 4″ wide spacing and are four feet tall. This mesh style keeps predators at bay and prevents livestock from sticking their heads through the panels.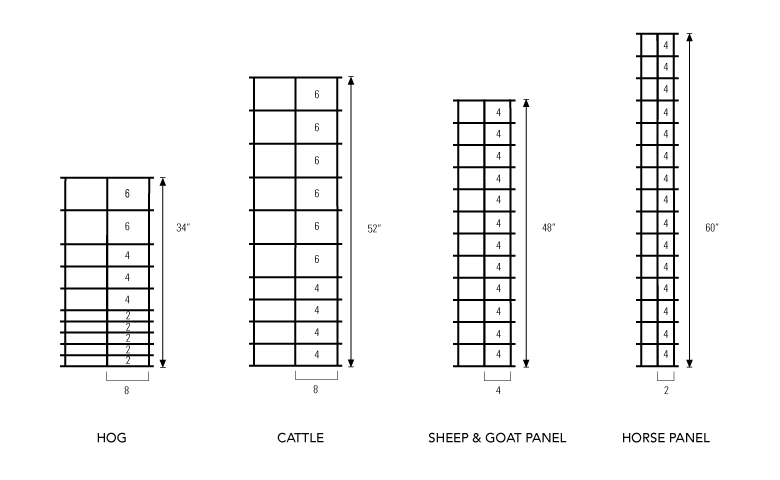 Let Red Brand Help You Safely Contain Your Animals
Learn more about Red Brand fence products at our website. You'll find information about our manufacturing processes, fence terminology, planning, installation tips, and more. For advice on proper fence selection, be sure to talk to your local Red Brand dealer when you are ready to purchase Red Brand Stockade Panels.
Don't miss a thing. Simply fill out the Subscribe form here. We'll notify you every time we add new material. See you soon!