Nearly every roll of Red Brand fence is designed for a specific use. Even the smallest details are taken into account – Keepsafe's closely spaced v-mesh prevents circular horse hooves from getting caught. Deer & Wildlife's wires reach over 8 feet tall to keep even the highest leaping bucks out of your property. Odds are, Red Brand has a fence that was designed specifically for your purpose.
However, not all fences can be exclusive to one need. For projects that call for a variety of applications, consider Utility Fence. Intended to be a jack-of-all-trades, this fence offers strength and rigidity for a variety of outdoor applications.

The Best of Both Worlds
Like every other Red Brand fence style, our Utility Fence is galvanized to resist rust. The manufacturing process of welding wire is efficient, so the cost savings is passed on to you. Here's a short video that shows the manufacturing process. Combined with our rigorous standards in steel quality, welded wire is a great option for projects that require a diverse fence.
Potential Uses for Welded Wire Utility Fence
Each wire is welded with spacing that ranges from an inch to four inches. The sturdy overall fence design can be used as standard fence material, cages, or wherever you need Red Brand strength. From small spaces to expansive fence lines, Utility Fence provides a diverse, cost efficient solution. If your goal is to keep small animals in, or out, with an easy-to-use material, then Utility Fence may be your solution. Welded wire is easy to work with, as it unrolls and lies flat faster than woven wire. Most rolls are available in 100-foot lengths; with some mesh styles reaching 150 feet. Therefore, when you combine these install-friendly lengths with multiple gauges, this fence is ready for nearly any task.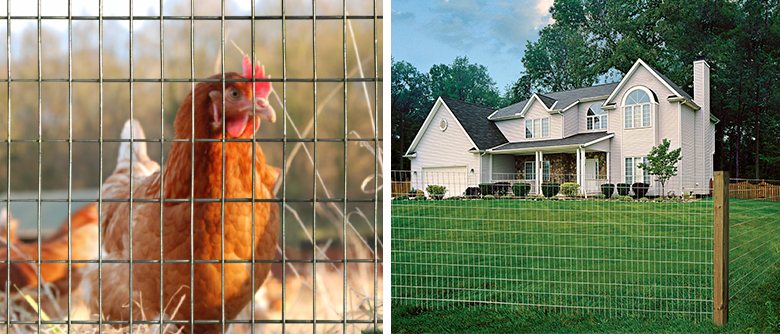 A quick patch on the chicken coop, a durable guard for the vegetable garden, or even a "catch all" fence for the yard are all great uses for Utility Wire. Talk to your Red Brand dealer for even more potential uses.
Don't miss a thing. Simply fill out the Subscribe form here. We'll notify you every time we add new material. See you soon!